What comes to your mind when you think of being an auto-mechanic? You have to become a professional mechanic who specializes in a variety of automobile makes or one particular make. But to be a motor mechanic, you must be aware of certain skill sets and how you can undergo auto mechanic skill development procedure, so that you become a fit for getting a job with good salary structure.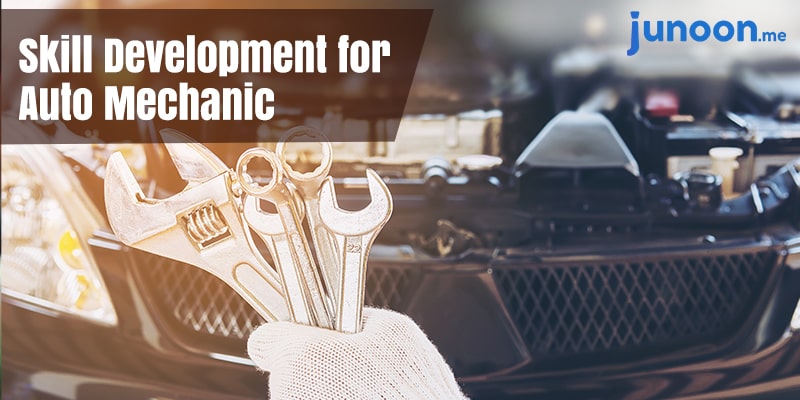 Need for Automobile Mechanic Training for Skill Development
With the basic understanding, we can say an auto mechanic is trained to handle the mechanical aspects and repairs of all automobiles. For this, they need to take automobile mechanic training to learn hard skills, which includes:
Auto body repair
Wheel alignment
Engine repair
Oil changes
Fluid leaks
Transmission diagnostics and repairs
Brake repair
Brake pad replacement
Diagnostic tests
Electrical systems
Car tune-ups
These are some of the basic hard skills that an auto mechanic must know and for this, they need to have a great knowledge of all the automotive parts. In a nutshell, an auto mechanic is the doctor of the vehicles, who need to have a strong understanding of all the body parts of the vehicles, so that he/she can treat the automobiles properly.
What Else Should Auto Mechanic Skill Development Include?
Learning hard skills is an inevitable part of auto mechanics, but there are certain soft skills that you must learn as well. Being a mechanic requires only hard skills, but to become a professional, you need to learn soft skills too. Automobile mechanic training is incomplete without soft skill development.
Efficiency
Always promise a reasonable time frame within which you must be able to finish the work and also the quality of work should be up to the mark, that is known as efficiency. It is very important for any professional as this enhances productivity.
Organized
To deliver any work within time, you must be well organized with all the essentials needed to repair any automobile.
Problem Solving
All situations won't be easy, some problems may need experience and impromptu solutions. These skills will come in one day, it will need auto mechanic course and some real-life scenarios to handle to develop such skills.
Independent
Relying on somebody else every time to solve any issue is not at all a good habit. People will want an independent motor mechanic who can solve the problem on the spot quickly.
Detail Focused
A mechanic knows the best, so it is your responsibility to check the little details of the car and repair it in the first phase to maximize customer satisfaction. Otherwise, customer will face difficulty again and will call you repeatedly.
Communication
Auto mechanic skill development should give special attention to build communication skill. This is important to communicate each and every detail about the vehicle repair and maintenance to the customers clearly that will remove confusion and gain the trust of the customers.
How Car Mechanic Courses Will Help You to Get A Job?
It seems like education, training and lessons are only for white-collar jobs, but is not true. You will get certified auto mechanic training online, which will assist you to enrol to the course from the comfort of your home, develop all essential skills, create an appropriate resume and apply for a job.
1. Offline mode is history nowadays. Right from your phone you can enrol yourself to the right training course in which you are interested and want to grow.
2. Car mechanic course will definitely give your knowledge about each hard skill, but it will also include the soft skill development plan. It is very important to choose the right course as you are not only going to be a mechanic, you want to be a professional.
3. Learning is sufficient until and unless you showcase it in front of everyone. How will one know what skills you possess if you do not reveal it? There comes the need of a proper resume.
4. The last but the most vital step is to apply for a job. Getting a job is like a mutually committed relationship, where you will be fit for the organization and the company will be fit for you as well.
It is necessary to know the result if you join a course. Afterall, your ultimate target is to get a job, find a raise, build your career, and lead a happy and successful life ahead.