There is no dearth of jobs for blue collar workers in India. Attending the right training program for blue collar workers, one can develop soft skills and look for decent jobs with higher responsibility and compensation in reputed companies. Almost every industry seeks skilled manpower that can alleviate organizational performance. In this highly competitive market, ground-level employees play a crucial role in strengthening market competence.
What are some leading companies offering blue-collar jobs?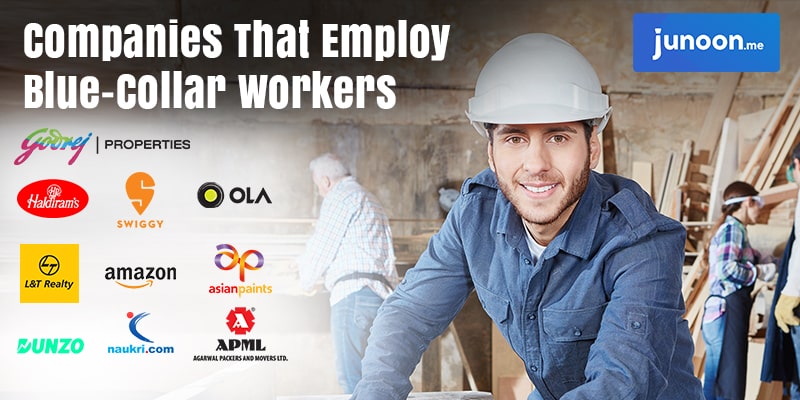 Following are some of the well-known companies in India where blue collar workers play a significant role.
There are quite a few companies and startups that are recruiting auto-mechanics to better serve customers in the Industry. It could be a pre-owned vehicle chain like Droom or companies like Pitshop that are trying to organize the garages across the country under the same vertical.
Some other options are mainstream automobile companies like below:
Maruti Suzuki India – India's leading car manufacturer Maruti Suzuki regularly recruits auto mechanics. Its dealerships and servicing centres also recruit auto mechanics.
Hero Honda Motors – One of the leading two-wheeler manufacturers of the country Hero Honda requires a huge number of mechanics in different manufacturing units.
Carpentry is not limited to workshop and furniture production level work. They help to arrange day-to-day maintenance related to furnishing and home décor. Companies like pepperfry, Furlenco and other startups when it comes to woodwork. Other mainstream options include:
Durian – This 35-year-old furniture manufacturer designs all kinds of furniture for home and office.
Purewood – This company was founded in Jodhpur, Rajasthan in 1997. It specializes in handmade and traditional furniture items.
Any company be it a small firm, big firm, startup, or an MNC, every place needs cleaner, not only to clean but also to maintain the hygiene factor of the place. Some of the firms who hires cleaners and create opportunity for them to work in big organizations are:
Chem-Dry – Based in the USA, Chem-Dry is the world's leading carpet cleaning company. They offer franchisee businesses where hundreds of blue collar employees are required.
ICleaners – This company offers all kinds of housekeeping services including floor and carpet cleaning.
It does not only involve normal cleaning, but it may also require skills to operate dry-cleaning machines and washing machines, for household items or industrial items. You can be associated with any hotel or the hospitality industry. Here are some popular names in this line:
German laundry – This is an advanced level laundry service in India. They offer franchisees across the country.
U Clean – This is one of the leading chains of laundry services in India. They also provide pick and drop service for busy customers.
Godrej Properties – This is one of the oldest real estate business in India. Godrej Properties become a publicly listed company in 2010.
Indiabulls Real Estate – This company was incorporated in 2006. Their key focus is the construction and development of commercial and SEZ projects.
There are different franchise chains like Behrouz, Biryani by Kilo, cloud kitchens, commercial kitchens, etc., who are always eager to get cooking assistant
Haldiram – Haldiram is one of the most popular snacks and sweets manufacturers in India. They are known for their various blue collar work benefits. Cooking assistants have good demand in this company.
Hotel Saravana Bhavan – This is the largest chain of South Indian Vegetarian restaurants.
Swiggy – Founded in 2014, Swiggy is the largest food delivery service in India. At present they are working in more than 100 cities.
Delhivery – It's one of the largest and most profitable logistics companies in the country. They regularly recruit delivery executives.
Ola – Ola is a ridesharing and app-based passenger car booking company. Drivers here earn handsomely. In recent times, the company has also started food delivery services.
Uber – This company is based in the USA but their existence in India is noteworthy. This app-based passenger car booking company recruits hundreds of new drivers every year.
Other companies like Baxi, Rapido, Meru cabs, etc., always have the demand of skilled drivers, on the hands of whom passengers will feel very safe.
Electricians can find jobs at Urban Company (earlier known as UrbanClap), any development project, maintenance staff at hotels & commercial facilities. Some renowned places where you will dream to be a part of, are:
Adani Green Energy Limited (AGEL) – Part of the famous Adani Group, AGEL is one of the largest renewable energy generating companies in India. Completing programmes of skill development for blue collar workers, electricians can get scopes to work for the company with lucrative offers.
JSW Energy Limited – This is a leading power supplier in India with a current capacity of 4541 MW.
Local agencies, municipal bodies, panchayats, nurseries, parks, and residential complexes recruit gardeners. Even commercial space like WeWork, co-working spaces, OYO properties, company facilities also prefer to have a huge garden and gardeners are primarily responsible to well maintain it.
DLF Ltd. – It is one of the top ten real estate companies in India. They required different blue collar workers including masons on a regular basis.
L&T Realty Ltd. – Founded in 2010 and headquartered in Mumbai, L&T Realty Ltd. This is a part of Larsen & Toubro.
Even builder floors, gated societies, hardware shops, and construction material shops, do need the assistance of masons to set up their entire structure.
Nannies have turned up to be modern day house helps for taking a better care of the tiny tots, and the idea is not limited to metros only. Nannies are in great demand among the working couples and nuclear families.
Different cities in India have a huge demand for Nanny services. These cities have respective agencies helping experienced and new nannies get the right jobs. If you are in Kolkata there are Care Generation, Indian Maid Services, etc. If you are in Bombay, there are Naany's House Daycare, Supriya, etc.
Amazon – Based in the USA, Amazon is now the world's largest online retail platform. They recruit hundreds of packing experts in their different storehouses.
Flipkart – Flipkart is one of the most popular online retail platforms in India. The company has hundreds of warehouses where packaging experts are required.
Asian Paints Ltd. – Asian Paints is a multinational paint company based in Mumbai, India. Asian Paints was founded in 1942. The Company is currently engaged in the business of manufacturing, selling, and distribution of paints and other related products.
Berger Paints India Ltd. – Berger Paints is based in Kolkata. The company was founded in 1923. Its products include paints, coatings, wallpapers, and chemicals.
Pidge – Pidge is one of the most trusted courier services in Delhi NCR. They are also attached to several eCommerce services delivering ordered goods to their customers in Delhi.
Dunzo – Dunzo is a delivery app offering quick delivery of varieties of products including food and medicines through the respective delivery partners.
SMR Holdings – One of the top builders in South India, this company recruits plumbers for real estate development and remodelling projects.
Faisal Management Services – This is a headhunting and manpower recruitment company having its branches in different parts of the country.
Naukri.com – This is one of the biggest and intensively spread headhunting and manpower recruitment companies in the country.
Local agencies – There are local recruitment agencies in every metro and big city that regularly provide information for the situation vacant for runners.
AP Securitas Pvt. Limited – Established in 1986, the company hundreds of security guards across the country in almost all industries.
G7 Securitas Group – This is counted among the top 10 security companies in India. It supplies security guards both for companies and individuals.
There is a huge demand for servers in top restaurants and hotels in India like the Bombay Canteen, Indian Accent, The Table, Bomra's, and thousands of others.
Safexpress – A leader in the supply chain and logistics industry of the country. Safexpress offers different kinds of warehousing solutions for the industries.
Agarwal Packers and Movers – Established in 1987, this company is now providing warehousing solutions to multinational and global companies working in this country.
Working in a top blue collar workers company is an honour for any worker. But, bigger the name of the firm, the more skilled professional you need to be. They often want good soft skills knowledge along with the main hard skill knowledge. Only with proper training and skills you can be a part of the corporate world. Just make sure you are not stopping at one place, keep gathering more knowledge and upskilling yourself for better opportunities coming your way.