Cleaners are employed across professional sectors. Be it industrial, corporates, or residential buildings, they tend to prove to be a vital cog in the overall functioning. It would not be an exaggeration to say that their absence or inefficiency can impact how people operate or carry on with their daily lives.
People are always on the lookout for efficient cleaning professionals. As a cleaning professional, besides maintaining hygiene, you are to know about dusting, sweeping, vacuuming, mopping, cleaning ceiling vents, restroom cleaning, etc. Now, if you happen to be a cleaning professional or looking to explore the job opportunity, knowing the challenges can prepare you to deal with job responsibility with ease.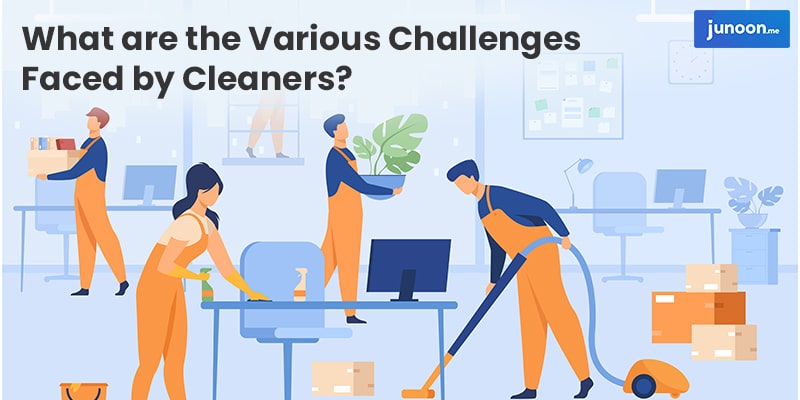 So, what are the various challenges faced by cleaners?
Here is your answer.
Challenges faced by a cleaner
Skill development for cleaners is aimed at elevating the standards of cleaning professionals. You can easily execute every instruction when you are aware of all the little aspects of your job. It is highly recommended to go for cleaning training courses to know about various challenges mentioned below, and how to deal with them efficiently.
Unavailability of the right equipment
People expect cleaners to do every bit of cleaning without any complaining. However, if asked about the right equipment for a cleaning professional not many can go beyond brooms, vacuum cleaners, or clothes. Unavailability of the right equipment becomes especially troublesome in professional surroundings.
Solution: It is advisable to find out the availability of the right equipment at the very beginning of starting out your job. Ask for the various equipment you will be provided once you start working and, if you find anything missing, make sure you ask your employers about the same.
Exposure to harmful substances
Professional surrounding such as one in a chemical factory tends to be harmful to everyone. But, for cleaners, it is an occupational hazard wherein they might not be involved with much of the functioning but must make sure that the factory is up and running for the next day.
Solution: Safety gear! It is mandated by government rules to provide necessary safety gear such as boots, jackets, helmets, masks, etc. Do not hesitate to ask for the right safety clothes or accessories necessary for you to carry out different tasks without any trouble.
Lack of communication skills
Often, we have seen cleaners getting into the unnecessary discussion, arguments with people for no fault of theirs. Much of it can be attributed to the lack of proper communication skills. It is not only for cleaners rather every blue-collar worker takes time to adjust to the new environment.
Solution: Cleaning training courses are designed to help individuals get trained in every aspect of their job. Communication is an important aspect of the overall training module. It helps you to understand the professional tone and how to get across your message without any conflict.
Health hazards
The main objective of any cleaner is to maintain optimum hygiene. Now, what are you supposed to do if you are allergic to dust? These are occupational hazard which you have to deal with smartly. Depending upon the task at hand, there are various health hazards which poses risk for the cleaners.
Solution: Be mindful of your surroundings. If you are allergic to dust or any other substance, make sure you communicate it to your employer and get the necessary equipment to carry on with your job.
The above mentioned are the prominent challenges faced by cleaners. While it is majorly about being aware of these to deal with them smartly, much of them can be easily put away with the right training module. So, make sure you get the right training to deal with the above-mentioned challenges with ease.