Construction workers, the blue-collar workers of the real estate and construction sectors, are the backbone of the industry. Companies in this sector are looking for workers with advanced skills. With the changing business environment, companies are looking for construction workers having updated hard skills along with essential soft skills for enhanced competitiveness. Luckily, there is a state-of-the-art training program for construction worker and other construction courses designed for upgrading hard skills as per the current industry demand.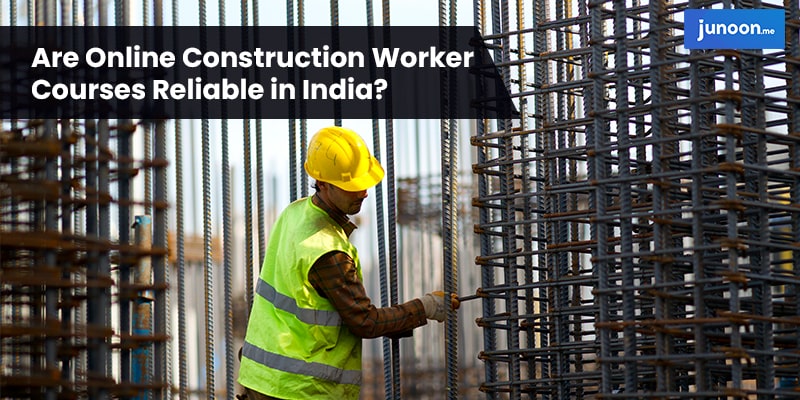 The changing demand of the construction industry
As said in the introductory part, the real estate and construction sectors are emphasizing the need for skilled manpower. As far as the soft skills are concerned, they are not differentiating much between the blue collar and white collar workers. But in the case of hard skills, they want the workers or applicants to be up to date. Almost 80% of the workers in India are blue collar workers. This makes it clear that the skill development of these workers is vastly important both in terms of organizational development as well as personal and professional development of the workers.
How is a construction course online designed?
The construction works may seem simple and straightforward, workers involved in the profession only understand the intricacies of the works. Apart from the huge physical and mental strength require in the profession, construction workers need to be impeccable in their assigned jobs. They need to keep supporting the project managers and work as they are asked to do. Hard skills are expected to be updated since modern construction works have changed a lot. Several types of advanced tools and materials have been introduced in construction jobs.
Hard skills are the basic skills that determine your worth in the job market in your domain. Based on your hard skills, employers will determine whether they will hire you or not. Let's see what are the hard skills expected from you in your profession:
1. Knowledge in building and engineering – Technical knowledge related to building and civil engineering works are mandatory for construction workers. Familiarity with tools and materials are indispensable in this profession. Most importantly you should possess hard skills in the following areas:
Surveying
Plumbing
Framing
Renovations
Roofing
Flooring
Uses of power tools
Extensive knowledge of building materials
Wallcovering
Demolition
Basic knowledge of different construction works
2. Safety measures – Construction workers must have in-depth knowledge of all safety measures in workplaces. As a construction worker, you should know what precautions you should adopt in different construction projects to save yourself and your co-workers. Reap the benefits of construction course as it includes comprehensive knowledge on safety measures for construction workers.
3. Physical strength – Construction works are highly physically demanding works. Considerable strength and stamina are essential for accomplishing different types of tasks in the construction sites. However, you should use your strength scientifically and also use the tools and equipment accurately for easing your jobs.
4. Tools and technologies – As a construction worker, you have to be habituated to different tools and technologies. Needless to say, like, in any other sector, tools and technologies are evolving constantly. You have to be updated on this matter.
Online construction classes are designed to include all these aspects of hard skills. Employers today want skilled blue collar workers having in-depth knowledge in all domains of their respective fields.
Along with your hard skills, some essential soft skills are also imperative. If you are good at your work keep the focus on developing soft skills as well. The right combination of hard and soft skills makes a construction worker apt in their field.
These core soft skills include the following:
5. Problem-solving skills – Organizational environment is full of problems. Some problems have easy solutions while some need intense attention and analytical capacity to work our appropriate solutions. Blue collar workers with problem-solving skills get more responsibility and important job positions in the industry.
6. Mathematical and sketching skills – Construction workers must have mathematical and sketching skills. These two skills help them to put their hard skills or professional skills in a project more aptly.
7. Communication skills – Corporate environment expects updated communication skills from the construction workers. Communication processes have come up a long way with the invention of email and social media. Strong communication skills have several other benefits.
8. Time management skills – Time management is important in every project. There are fixed deadlines that construction workers need to adhere to.
How the skill development for construction worker courses help the construction workers?
These courses are conducted online. See the top online courses of Junoon (junoon.me) and select a building construction job training course for yourself. These courses are designed keeping in focus the latest demands of the real estate and construction sectors. They also help you to find a suitable job through their job search portal. Since the courses are online, you can learn in your free time.