The demand for laundry persons surging with time. Over the past two decades, almost every unorganized sector has seen some touch of professionalism whereby the general jobs are now handled by professionals. In laundry and dry cleaning too, hundreds of startups have started providing professional service to customers. Laundry person having a fundamental knowledge of laundry activities can enhance their abilities to be able to get a job in the corporate sector. With the right laundry training, one can get themselves ready for the industry. There is a huge demand for laundry persons, managers, and supervisors.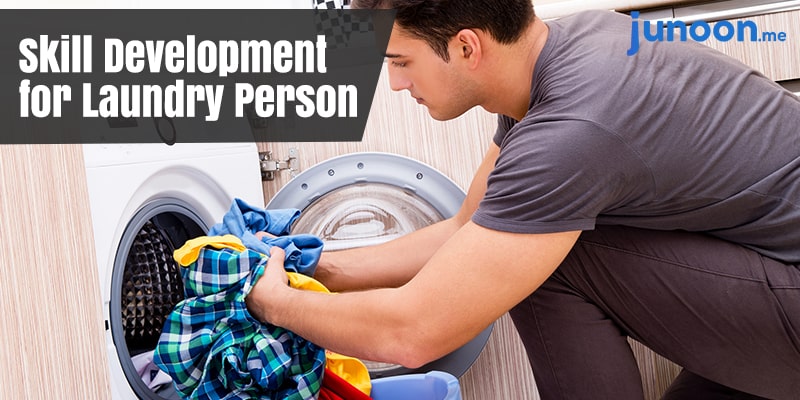 What is skill development for laundry persons?
With basic or normal knowledge, a laundry person can do general works that we are habituated to see in the unorganized sectors. Some basic skills that could be naturally found in a laundry person are as follows:
Understanding of different washing techniques
Understanding of drying techniques
Physical capacity to move with heavyweights
General mathematics to calculate charges
General organization skill to manage the clothes from dozens of clients
With this skill, one can act as a general laundry person but cannot excel in the corporate world or think of getting a scope to enter corporate jobs. Whereas with some soft skills along with these basic skills, one can change their future. Laundry courses are designed to develop and enhance soft skills in every laundry person.
What soft skills of laundry courses can enhance the chance of getting jobs?
Following are some soft skills that help to enhance the chance of getting jobs:
Listening to what superiors and customers are saying or the special instructions from these persons is important. Focusing full attention on one person or group at a time, understanding completely what they are saying, asking questions if anything remains doubtful are all parts of active listening.
Laundries and dry cleaners at the corporate levels are mostly automated. Different types of machinery are working round the hour. Operation monitoring is more important than the physical ability of a laundry worker. In the skill development classes, this aspect is given special attention. With the right training, laundry worker skill improves to a great extent.
Intensive organization skill
A laundry worker needs to develop expert level organization skill. With expert-level organization skills, one can learn the art and science of working in and with a team, team management, primary level bookkeeping, customer management, and many more.
This is another important aspect that today's employers want to see in every worker. A laundry person should have the ability to understand the situation and provide a necessary solution right on time. Today's employer wants to see how efficiently one can work in a challenging situation. With problem-solving skills, a laundry worker can provide the right decision for keeping the customer satisfied without hampering organization ethics.
A laundry person when works in the corporate sector need to control several technically advanced tools and equipment. Understanding the workability of this equipment and tools are necessary to control the work-in-progress. Online training programs are designed to enhance understanding of this realm.
How laundry classes online help cleaning persons to get a job?
Today, blue-collar workers are also expected to show some soft skills that would make them independent decision-makers. With flexible classes that Junoon offers to laundry workers, it's possible to enhance the overall skills. Junoon also helps to find good placements in reputed organizations. It's a great opportunity for laundry persons to get the taste of a promising career through proper skill development.