A picker is a person who uses to select merchandise from shelves and prepare the item for shipping. The picker has to do his duties based on the standard operating instructions and make sure that the inbound and outbound shipments are picked correctly. Apart from that, a picker also has to perform basic maintenance and conduct physical inventories as well as report to the employer if there are any variances in the quantity. Thus for becoming a professional picker only the skills and qualification is not enough. Skill development for picker is very essential for a picker to get a good job and excel in the industry. In the modern corporate environment, it's tough to get a suitable job without soft skill development. This is where skill development courses for picking persons become effective.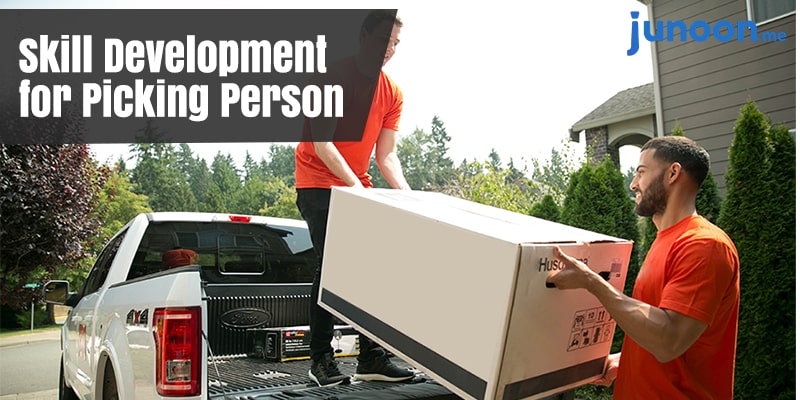 What is picking skills development?
With the basic skills, a picking person can work as a general picking assistant. With online picking training, a picking person enhances his skills and can do this job effortlessly. Advanced level training is designed to enhance the soft skills of the picking persons. When they get hold of all types of skills, they become professional persons.
What skills should be included in picking courses?
Picking persons are important for various industries, especially in B2C markets. There are several aspects of the job that need certain hard skills and soft skills to accomplish the jobs efficiently. Thus, online picking courses are designed to develop these essential skills in a picking person to make them highly skilled personnel. Let's have a look at some of these essential hard and soft skills:
Record keeping is an essential part of the job of a picking person. Having a thorough knowledge of methodical record-keeping can help to pick persons to enhance their efficiency.
This is essential for picking persons since they may need to deal with customers directly on behalf of the organization and accept picking charge, delivery charge, service charge, etc.
Communication skill is required for every worker to enhance their productivity and the job of the picker is also not an exception. With good communication skills, the picker can handle his team effortlessly and can easily convince the upper management in case of any disputes. Apart from that, good communication skill is also required for his day to day activities.
A senior picker needs to work with a team and if he becomes a supervisor then he has to maintain his team. As a good supervisor, a picker must have strong communication skills, good knowledge of the subject, and he must know how to develop strong bonds within the team members, how to support a team during the critical time, and how to lead a team. All these skills are taught in the picking skills development program.
Problem-solving and decision-making skill:
In the corporate world a situation may arise when a picker also needs to think out of the box. A picker may encounter several problems in their day to day activities and they may need to solve their problems with a logical solution. A picker who is in the role of a supervisor has to take many vital decisions for his team members and that is the reason why he must have decision-making ability.
Picking is a full-time job and most of the time they need to do overtime. A company always wants to hire that picker who can complete all consignment before the deadline. Deadlines can either make or break a business and that is the reason why time management is very essential. That is the reason why the importance of time management is taught in online picking classes.
Basic computer operation skill:
These days, stocks are maintained on computers. Days are coming when picking persons may need to update stocks or keep a record of stocks released, stocks included, etc. directly.
How picking classes online help a picker?
Online courses are not just for white-collar workers, but various courses are designed for developing the skills of blue-collar persons as well. Gone are the days when trainees need to attend classes physically but now they can attend online classes at their convenient times. Junoon has designed several certified courses the picking persons to enhance their skills and abilities. Junoon also helps blue-collar workers find suitable jobs for a better career and a bright future.