A plumber is a person who uses to install and repair the pipes that supply water as well as gas and carry the waste away from the office or home. A plumber also needs to install plumbing fixtures such as sinks, toilets, and appliances. Every company needs to hire efficient plumbers who have a good knowledge of plumbing fixtures.  With the basic plumbing skills, a person can become a general plumber but if you want to excel in your career then you have to think about plumbing skills development. With advanced plumbing skills and some essential soft skills, a plumber can take the role of a supervisor and can earn a good salary package.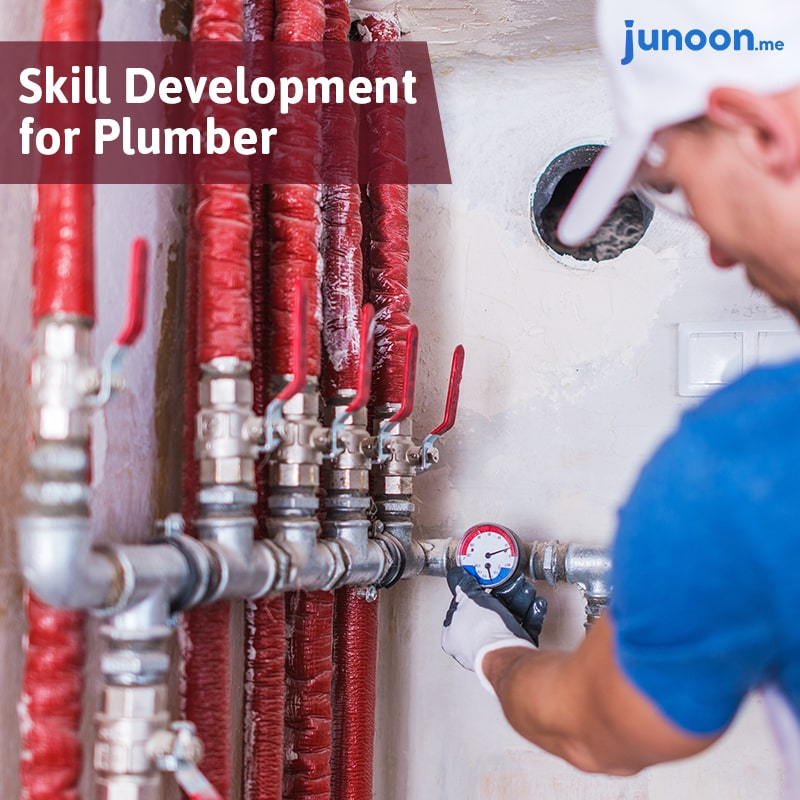 What is skill development for plumber?
With the basic plumbing skills, a plumber can only work as a general plumbing assistant. As a plumber, you have to deal with troubleshoot problems and need to decide how to fix the problems quickly. Apart from that, you have to estimate the cost involved in the installation and repairs and report to the managing team. Hence, if you need to grow in the corporate environment as a good plumber then you must possess some soft skills along with the knowledge of installing and repairing the plumbing fixtures. Hence, plumbing training helps a person to do his job with passion. Following are the basic skills:
Reading
Drawing
Doing simple mathematics
Understanding how the water supply system works
Locating pipe connections and indoor and outdoor draining systems
Knowing installation works
Having physical ability to work in different places including confined places and at a height
Having ability to use hand and mechanical tools
Having ability to locate pipes leakage and cracks
What else should be included in plumbing courses?
For becoming an experienced and skilled plumber you need to back your basic plumbing skills with soft skills. In the skill development for plumber training courses the following essential soft skills are also taught besides the hard skills:
Communication skill: As a plumber, you need to collaborate with many other people of the company such as general contractors, electricians, and other construction professionals. Hence if you do not have the right communication skill you will not be able to enhance your productivity. In your day to day activity, you need to communicate with the upper management and other related departments of the company. Hence you must grow your communication skill.
Adaption skills: As a plumber, you need to perform a routine inspection of plumbing for which you may have to work for long hours, do light construction work, carpentry, some electrical works, etc. All these jobs involve the risk of injury from cuts and you may have to lift heavyweight as well. Hence, in the plumbing classes online adaption skills are taught so that they can adjust to all types of working environments and excel in the corporate world.
Technical skills: A plumber has to deal with a lot of tools and equipment as he regularly need to install as well as repair various valves, fixtures, resolve the problem of poor drainage systems, etc. Courses that are designed for the skill development of plumber help him to acquire knowledge on new machinery, tool, and equipment, so that you understand how they will work before you insert it in the workplace.
There are several other aspects of soft skills as well such as time management, organization skill, problem-solving skills, active listening skill, and customer service skills.
How online plumbing classes online help the plumbers?
Gone are the days of off-line classes, now with online classes blue-collar workers can enhance their skills to improve the chance of getting a job. Online courses of Junoon are designed to teach the hard and soft skills of the plumbers. Junoon also helps with the right information about the respective job markets of blue-collar workers. We are always there for you to give you knowledge, build your personality, groom you and help you to get placed in a renowned organization.