Warehouse workers play an important role in the logistics sector, as they are the force behind efficient functioning at a warehouse. It is an exciting job opportunity filled with challenges and many are on a constant lookout for an opportunity to land up that job. Now, with skill development for warehouse worker, you can learn about the different roles and responsibilities and make sure you are properly skilled to handle any situation at the warehouse.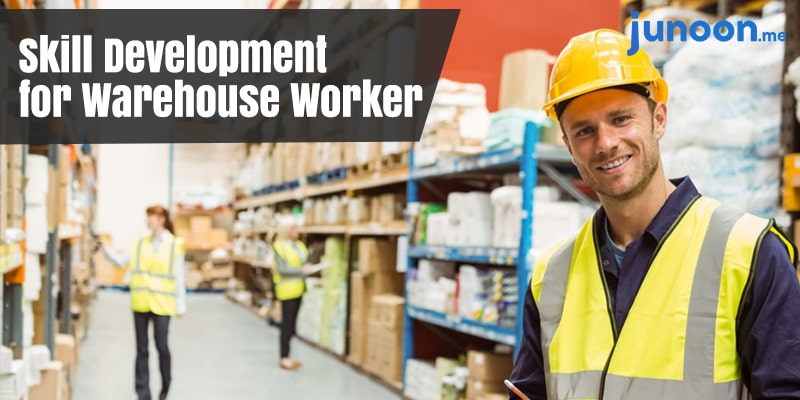 You can certainly find thousands of people that are eager to work in a workhouse. However, not all of them are skilled enough to handle different tasks. A warehouse worker is supposed to deal with on daily basis. So, the question arises, what skill development training a warehouse worker should go for to get a job?
What is warehouse training all about?
The job of a warehouse worker is loaded with different roles and responsibilities. While soft skills such as teamwork, discipline, communication skills, and others are necessary to deal with the day to day functioning, there are hard skills that need proper guidance to learn. Warehousing courses offer you all the information on challenges and strategies that help you get efficient in your job role.
Some Duties that will be required to attend to at a warehouse:
Maintenance skill
Your prime responsibility as a warehouse worker is to ensure proper maintenance of the facility and of all the machines. Hygiene, as well, is an important part, where you make sure that the area is properly cleaned and sanitized regularly. From forklift, conveyor belts to cranes, and overall warehouse conditions, warehouse worker training program is all about ensuring that you can maintain the warehouse in top-notch condition.
Delivery management skill
You are the point of contact for vendors and company representatives. All the delivery consignments are loaded and unloaded with your permission after following due formalities and standards established by the company. This is where you prove your worth by maintaining an efficient delivery management system which you get to learn with warehouse management course.
Efficient inventory & shipment management skill
Maintaining a proper record of inventory and shipment ensures efficiency wherein you have all the necessary information regarding any consignment readily available with you. Also, a timely schedule with proper documentation and data entry skills aids in better functioning and operations.
Ensuring safety all the times
There must be a standard safety guideline for everyone working at the warehouse. Does anyone need safety jackets, safety helmets or are there any danger zones inside the facility? All of it and much more must be considered to avoid an unfortunate incident.
The above listed are some of the important duties that are a part of skill development for warehouse workers. If you have all these information and are well informed to handle and execute these responsibilities, you can easily get posted at some leading warehouse. Plus, the certification instantly gets you the recognition you need.
What are the benefits of a warehouse management course?
The best part of the warehouse management course is that you can study and learn at your own pace. All the material is available online and once you register for the course, you have unlimited access. No longer do you need to rely on books and notes, you can have it all on your mobile phones or computer.
Junoon aims to help and assist all the blue-collar job workers to acquire proper skills for their employment. With its warehousing training program, the company aims to bridge the gap between employer expectations and employee qualities with its training. Once you complete the training, you get certified and with its several associations Junoon presents many job opportunities for the trained professionals.