Cleaning staff members play an important role in any modern-day home, office, restaurant, hotel, and hospital. A neat and clean office, especially where external footfall is high gets extra attention and praise from visitors. On the other hand, people want to avoid filthy offices which hampers the goodwill of the company in the long run. From the employee's perspective too, a neat and clean office brings positivity and higher productivity. Professional cleaners not only keep the premises clean but also help the employees to keep everything organized. With the basic understanding of the job, we can say a cleaning personal can handle general cleaning like dusting and wiping but with commercial cleaning training, a cleaning person can become an indispensable part of the organization.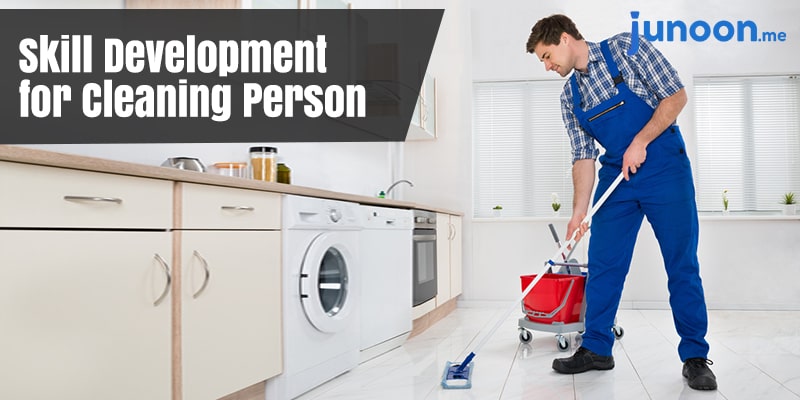 The basic skills required to be a perfect cleaning person as follows:
Buffing
Cleaning
Dusting
Mopping
Scrubbing
Sweeping
Safety
Polishing Furniture
Waxing
Washing windows
Washing floors
More or less every cleaning personnel possesses these basic skills or hard skills. To enhance the chance of getting a job, especially in the corporate sector, cleaning persons should develop several soft skills and core skills.
What is skill development for cleaners?
Learning basic or hard skills is inevitable for cleaners but that does not help to grow or enhance the chance of getting a job. For that, cleaning persons need to join cleaning training courses. A well-planned training program helps to develop soft skills and core skills that a cleaning person needs, to become an inherent part of the corporate world. Cleaning training is incomplete if these soft skills are not included.
What soft skills should be included in cleaning training courses?
Following are some of the most important soft skills that every well-planned and updated cleaning course include:
Problem-solving and decision-making skills
The ability to think outside the box and come up with a logical solution to a problem is highly valued in any industry. In commercial and residential cleaning, the employees face different types of issues and challenges regularly. The cleaning person or supervisor has to quickly make decisions regarding which types of floor cleaners will be suitable and cost-effective, or how the cleaning staff would be employed during an event. Companies would prefer to recruit cleaning persons having problem-solving and decision-making abilities.
Companies look for professional cleaners with strong time management ability. Cleaners in office or factory premises do not get unlimited time for cleaning and washing. They need to manage everything before other employees or workers start working. Once the employees and workers occupy their floor or seat, it's not possible to wash those areas till they finish their daily job or go for any break. As a cleaning supervisor, the responsibility increases manifold. With the commercial and house cleaning classes cleaning persons become proficient in time management.
This is another key skill for any modern professionals. The working environment changes with industries and even with companies in the same industry. Cleaning persons need to adapt to an environment and work accordingly.  Employers want personnel capability to understand the basic necessities quickly. Employees also want to see how the cleaners quickly adjust to the new cleaning materials or any new machinery.
Apart from that, team management, organization, and the ability to work independently are other soft skills that are mandatory in every cleaner personal who wants to excel in the corporate environment.
How online cleaning training courses help to get a job?
Online programs designed for cleaning persons to help them to develop soft skills and core skills that further strengthen their hard skills. Junoon is one of the most authentic online sources of skill development for cleaners and multiple other blue-collar workers. Online courses are extremely flexible that the cleaning persons can access anytime from anywhere. These programs are created for developing industry-ready professionals and getting them absorbed by top companies.