Cooks and chefs are in much demand these days. Hotels, motels, restaurants, and households look for capable and experienced cooks. Cooks can make or break the reputation of a restaurant or hotel. Even a chef cannot present his/her best dish until and unless he/she gets cooking assistant's help. On the other hand, working professionals look for good cooks who can make delicious and nutritious dishes for their families. With the best cooking training, an amateur or casual cook with basic knowledge of cooking can become a professional cook and even a chef. Right training and experience make one a professional cook having high demand in the related industry.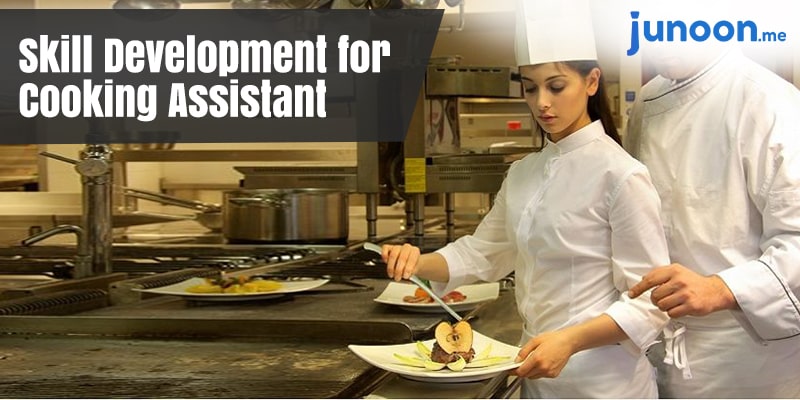 What skill development is required for cooking assistants?
With basic skills, anyone can cook foods but that basic skills are not sufficient to enhance the chance of getting jobs in reputed hotels and restaurants. Even households with a large family, look for professional cooks who have taken cooking as their professions.
Following are the basic skills that are the minimum requirement to be a cook or be a cooking assistant:
Portion sizing or cutting
Heat control
Measurement ability
Precision
Presentation
Understanding taste
These basic skills are not sufficient to be a professional cook. There are some other core skills and soft skills that are employers want to see in a professional cook. To enhance the chance of getting a job in the related industries, a casual cook who has learned the basics of cooking just by seeing others and with experience must undertake a cooking chef course. These types are courses are mostly conducted online and designed to enhance the core and soft skills of a cook to make them suitable for the current demand of the market.
What skills are developed in cooking classes online?
The target of well-designed cooking classes remains in developing various essential core and soft skills in the people having an interest in taking cooking as their profession. Maybe many of the present cooks are already employed but they are unable to reach beyond a certain level in their careers due to lack of knowledge on various allied but extremely important skills. Some of these core and soft skills are as follows:
A good cook or chef must also be good at understanding the business. They must have a basic sense of how delicious foods can be made cost-effectively. Employers want to see business acumen in the cooks because the revenue and profit of a restaurant or hotel depends a lot on the quality of cooks appointed.
Knowledge of nutritional values of food items – food science
Just a delicious dish is not sufficient. In the reputed hotels and restaurants as also in households, everyone wants to know what are they eating? What is the nutritional value of the dish they are eating? A professional cook must be aware of the nutritional value of different food items and how different raw food items, spices, oil, etc., can be mixed to develop a nutritious dish. This is a part of food science. In cooking training classes, they are taught food science.
This is another vital aspect of cooking. Anywhere, inventory of raw food items, spices, oil, and other essential items, and fuel must be maintained efficiently. A good cook takes care of inventory management as well.
There are several other core and soft skills that are also taught in the online cooking chef course.
How cooking classes online can help you get a job?
Online cooking classes are designed to meet the current demand of the related sector and skill development for cooking assistants. Cooking is a nice combination of art, science, and business. Online classes are highly flexible and anyone can these classes from home. Junoon is one such authentic source of pursuing online classes for cooking to develop the core and soft skills that would ultimately turn an amateur cook into a professional one. It will not only teach you the skills related to cooking, but also groom you properly, so that you become presentable and appreciable by most of the recruiters.