Blue collar workers are the backbone of an organization. They bear a huge responsibility at the grassroot level. In the present business environment, almost every category of manual works or the works that involve physical hardship is corporatized. The gardener jobs are one of them. You must be wondering how come a gardener like you get a job in big companies? Let me tell you most companies prefer to set up their offices inside a specific premise which will include a park or garden positively. Even nowadays the importance of having indoor plants in the offices has become a must. So, several corporate bodies hire gardeners.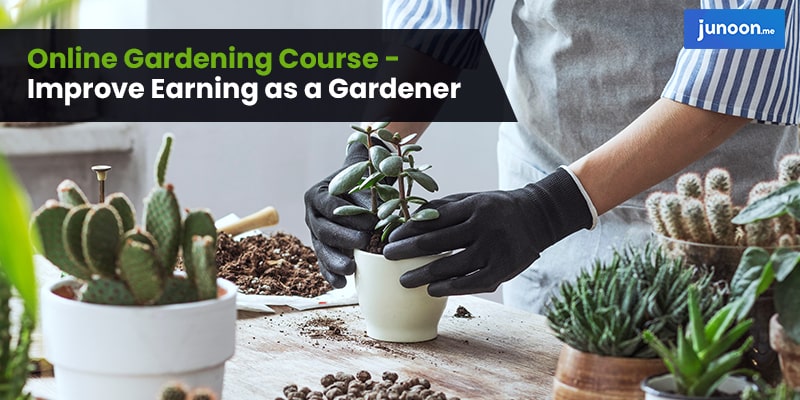 What can help to get gardener jobs?
Employers are constantly looking for blue collar workers equipped with soft skills as well, so that they are well fit in the organization. Apart from the big firms, there are housekeeping and maintenance agencies in different cities of the country that hire gardeners. This is because, gardeners have huge demand these days. Pursuing a state-of-the-art programme for the skill development for gardener, which includes both hard and soft skills, help to apply for a lucrative job with a good income opportunity. In this way, the world will surely get to know your worth.
What all are included in the training program for gardener?
While referring to the importance of corporate culture and work procedures, we generally refer to white collar workers. But time has changed a lot. In the modern market-oriented corporate environment, trained blue collar workers get similar importance. As the most unorganized sectors are also getting shape slowly but steadily, it's the high time you reap the opportunities showing your skills both as a gardener and a team member.
Hard skills are primary qualities which will decide your work profile. On the basis of your knowledge, you will get placed. So, what all things you should know:
Standard Operating Procedures (SOPs) – This will define your job profile and what all works you have to do in that particular profile.
Do's and Don'ts – This will help you to know your protocols and also ensure that you are working safely.
Checklist and Best Practices – This is necessary as this will let you know what is expected out of you from a job. As a gardener what all works you must do and what will be considered as best for you.
Tools & Technologies – Every job requires the use of certain tools and technologies. A tool necessary for gardener will be completely different from other job profiles. But as a gardener you must be aware of each and every tools and technologies required for gardening.
Soft skills are additional skills which are expected and essential for a successful professional career and personal development. The training program in your field is also designed to develop some extremely essential soft skills:
Organizational skills – Being a part of an organization, you have to work in a system. You need to learn & adopt the organizational values and work accordingly. But, for this gardening training is essential, otherwise you won't understand it completely.
Time management skills – This is a quintessential skill every organizational member should possess. As a gardener, you have to be very much accurate in attending and managing the entire area. Clients never want unprofessional gardener to handle, as this can also lead to death or dryness of all plants. Organizations also do not want to hire people having any time sense. Skill development for gardener will help in building the time management sense among you.
Communication skills – Communication is not just a soft skill that you must possess for successful organizational life but also a vital life skill. With our right communication skills, many essential soft skills remain useless. Communication skills have many aspects of helping you to work more efficiently and follow the directions of seniors. Modern-day communication changing aspects in many ways. It's getting more digital than oral or physical. In the gardening classes, you are taught better ways of communication.
Problem-solving skills – These are the skills that let us understand a situation in a better way, tracing the underlying issues, and resolving them as the earliest. Problems are annoying, time-consuming, and demoralizing. The problem, especially when you are time-bound to complete a job needs special skills to find solutions. Benefits of gardener course is that you will know how to solve a problem quickly and swiftly without interfering more people.
Your proficiency in gardening accompanied by your proficiency in soft skills make you a complete professional.
How gardening courses online help to grab the best opportunities?
Let your skill develop in every possible way. As a gardener, you might be extraordinary in your job, but you may lack certain skills that the present-day organizations look for in an applicant. Getting a job in the organized sector comes as bliss to blue collar workers like you. It is great for the company as well as they will be getting a skilled gardener like you. Fixed income, fixed hours of work, opportunities grow with more responsibility, and fringe benefits make gardener jobs attractive. Take the assistance of Junoon for a good course curriculum and let your dreams come true.