Masons are an inherent part of construction works. A mason uses bricks and different other construction materials to build structures as per the planning of civil engineers and architects involved in the projects. As such, masons need to work in a team of experts. There is no dearth of mason jobs in India. These days recruiters are looking for expert masons having multiple skills that are not rescripted to hard or professional skills alone. If you are serious about your profession, this can be a good field for you. You just need to think right and act right.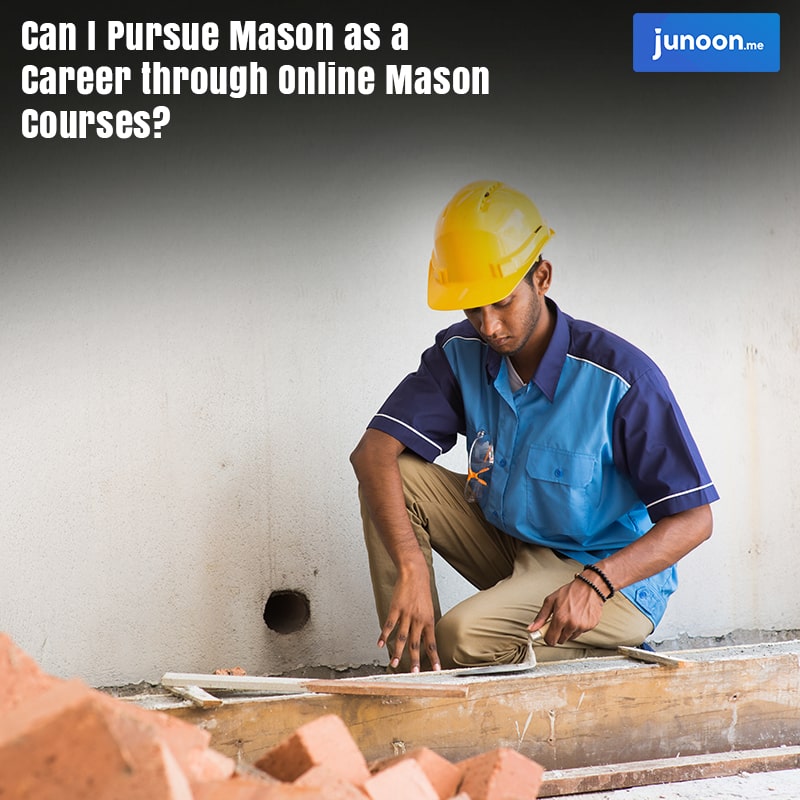 How do masonry courses can make a difference in your career?
As said before, just having masonry skills is not enough to excel in the corporate world. When you are trying to make a position in the corporate world, you have to take into account your soft and core skills as well. There are several aspects of soft and core skills that you need to develop to survive in the profession. Keep in mind that –
Recruiters want blue collar workers to be efficient enough to work in a tea, communicate well, place their opinions clearly, and find the mistakes in the planning if any.
Employers want blue collar workers to take more responsibilities, pro-active, adhere to deadlines, keep good communication with the supply chain, and ready to face the challenges.
The purpose of a state-of-the-art masonry course is to equip you with all these mason workers skills so that you can perform at the optimum level. If you can become an asset to the company, there will be a smooth sailing career as a mason. With experience, you can get more responsibilities, better and attractive compensations, and more important in the company.
What are the basic jobs of a mason?
Apart from the essential skills, you need to have some important core skills as well. Let us first check what are the basic jobs of a mason:
Assist in construction works as per the planning and project.
Assist in roofing, framing, and sheathing of a building.
Assist in the remodeling of existing structures as per the planning of the project
Inspecting the jobs as stated above to rectify any safety hazards.
Reporting to foreman or supervisor regarding the progress of the job.
Communicate to the foreman or supervisor any anticipated issues in the construction.
Communicate with the team members, junior masons, and other masons.
Masons hold an important part in the construction project. Being blue-collar workers in the construction industry, masons are indispensable in that industry. But essential or professional skills are not alone. There are some core skills or soft skills as well that are also important.
What are the core skills of a mason that can boost mason careers?
Following are the most essential core or soft skills that can help you excel in the corporate world as a mason:
Creativity – If you are creative, you will definitely find yourself in a good position as a mason within a few years. In construction works creativity plays an important role. In most of the cases, civil engineers and architects involved in a project are found to make changes or face crises.
Mathematical skills – To be an essential and successful mason, you must have impressive mathematical skills. It helps you to assist the higher authorities with correct calculations.
Sketching skills – This is a must for a mason. If you can sketch the construction works appropriately, civil engineers will start depending on you.
Reading skills – You must have the ability to read instructions quickly and understand them well. Various instructions and rules will reach you in print and digital form.
Communication skill – Without intensive communication skills, you will not be a better team member. Today's communication processes are different and mostly digital. You need to master these processes.
In a structured mason training program, these prime aspects of soft skills are taken care of. The courses are made off on the basis of the current requirements of the industry. So, you get more confidence to apply for jobs in the top-notch companies in India.
Where to look for the mason online courses?
There are some popular training centres online like Junoon offering various constructive and timely courses for blue-collar workers. They also update the blue-collar workers regarding the latest situation vacant in different positions including mason job vacancy in India. Communicate with a popular training centre of this category to become an efficient mason and experience a prosperous career.